These are a few my Nano iPod repair experiences.
Betty Zambrago lives in Coral Gables Florida (33134).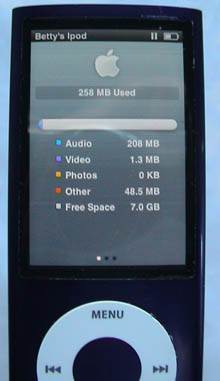 She works for a public relations firm and handles publicity matters for clients. She is also training to do a half marathon and depends on her Nano 5th gen as her training partner. She called me about her Nano because she had put it through the washing machine with running clothes a week earlier.

I never know if I can bring an iPod back to utility... until I have it here and apart. In her case. it was here for 6 days as I worked through it. I was able to get it all working again and her files still safely still on it.

Like many cases of an iPod through the washer... "iPod was in my jacket pocket (zipper pocket) and went through the whole wash cycle in the jacket." I had to replace the LCD screen which was a $33 part.

It works perfectly now.


Fixed - Total cost $73.




This was a very complicated case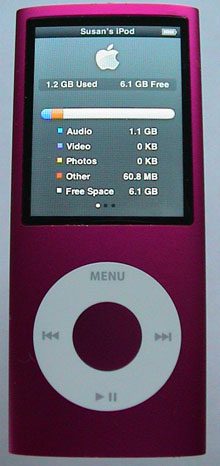 that shows how far Apple is willing to go to make a device that is NOT intended to be repaired. Everything about taking a Nano 4th Gen apart has a trip wire that is intended to make you destroy the iPod's logic board while you "try to repair" it. I'm certain there will be millions destroyed by people thinking they know how.

This Nano 4th Gen arrived David King in Smyrna, Tennessee. In fact it belongs to Ashton Watson and came with a letter that read,

" The iPod was in my jacket pocket and I put the jacket in the wash. My mom was transferring the clothes and she found the iPod in the washer. I tried to turn it on and it wouldn't. I put it on my docking station and it worked. I plugged it in to the computer to put new music on there and the screen lit up, but I couldn't do anything with it. I though if I charged it that it would work. So I charged it and unless it is on the docking station it will not work."

It got here on a Saturday and I took it apart and cleaned away all the corrosion from the water exposure. I was able tot get the LCD and iPod to work but I wasn't able to get the device to work on battery power or seem to get the battery recharge circuits to work.

When I examined the device even deeper I discovered that Apple had actually flash soldered or welded the battery via a battery ribbon connection to the logic board. This effectively makes replacing the battery impossible. It's the same technique they used for the headphone on the Touch models so dropping a Touch and destroying the right side earbud connection in the fall (fairly common) obligates you to buy a whole new iPod.

I was certain the logic board really worked and the fault was with the battery, so I carefully dismembered the battery *in place* and was able to locate the locate unseen corrosion on its voltage regulator board. Small, almost unseen, under obscuring tape on the backside of the battery facing into the logic board. This style of design is EVIL.

Once I was finished,and had things put back together, I was able to make the battery and device work again perfectly.

The total cost for David and Ashton was $40 to get their iPod back working perfectly with all their songs still on it.

Fixed - Total cost $40.




Laura Fenamore called me from Greenbrae California (94904) about here Nano 3rd Gen.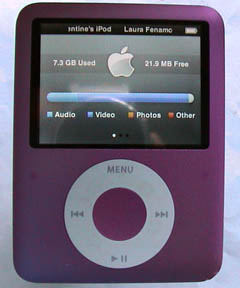 Laura is a personal trainer and life coach in Marin County. She described her Nano as having been water exposed even though it was sealed in a water tight container. She uses it to swim with what was described as an H20Audio case. At some point she muast not have sealed the case perfectly. She was leaving for a long trip and wanted to get the iPod working again or replaced before leaving.

So not only did this Nano have a $200 water tight case that was bought for it, it also had an inscription. Her partner gave it to her on their 10th anniversary together so getting this one to work again also had H-U-G-E sentimental value.

I promised her the day it arrived I would work through it and give her a case disposition. It arrived 4 days later and I went through and got back to her the same day. I got it all working but it needed to have the LCD replaced which was $22 part.

On hearing the result I got this message,

"wow, thank you for quick turn around.

the light went out the moment I turned it on after it hit water.

guess the charging made it worse too.

thanks so much for getting it fixed, money coming.

laura fenamore"

Total cost to get priceless memories back in place and working again... $62

Fixed - Total cost $62.




---


Call 707-544-4400

or

email me at repair0117@isickbay.com with questions or to set up a repair.

HOURS:

Monday through Friday from 10am to 7pm, and Saturday & Sunday noon to 6pm.


I'm in Sonoma County... Northern California wine country,


Frank Walburg
2145 Service Court
Santa Rosa, Ca 95403-3139
Back to Top