My Fee Schedule

So... you may know this already... I am a one man repair shop for iPods, laptops (PC and Mac), digital cameras and cell phones. I've been repairing computers for years, since the early 1980's. Touch model iPods and iPhones are really handheld computers that use what was reported to be a Linux micro kernel operating system. From the iPhone forward, they will likely be a handheld computer using a micro kernal OS of the Mac OSX operating system which is based on BSD Unix. I have a strong back ground in UNIX.

You basically only pay $40 for a "classic" (hard drive based) iPod, $60 for a Touch model, iPhone, digital camera or cell phone if I can get it working without replacement parts. You and I together will make a determination together about whether or not it is feasible for me to look at your iPhone or iPod. I also create a backup of your data, if at all possible. I'm a computer professional that has been working with computer hardware and software to solve problems like these since 1984.

iPhone repairs with parts required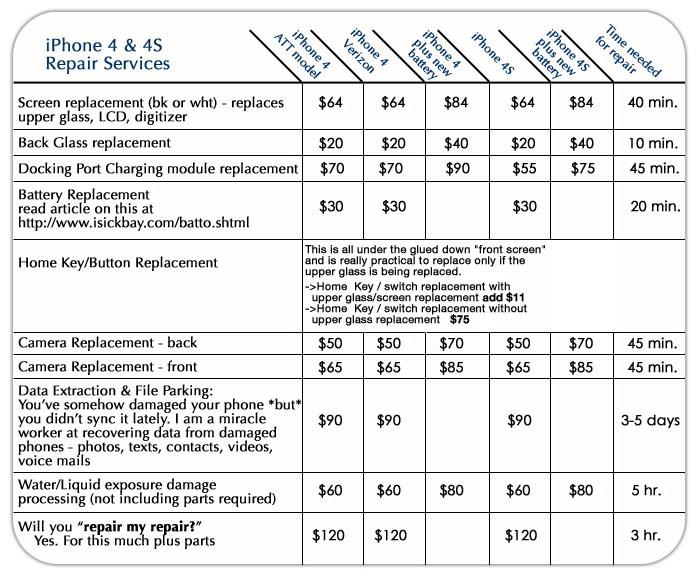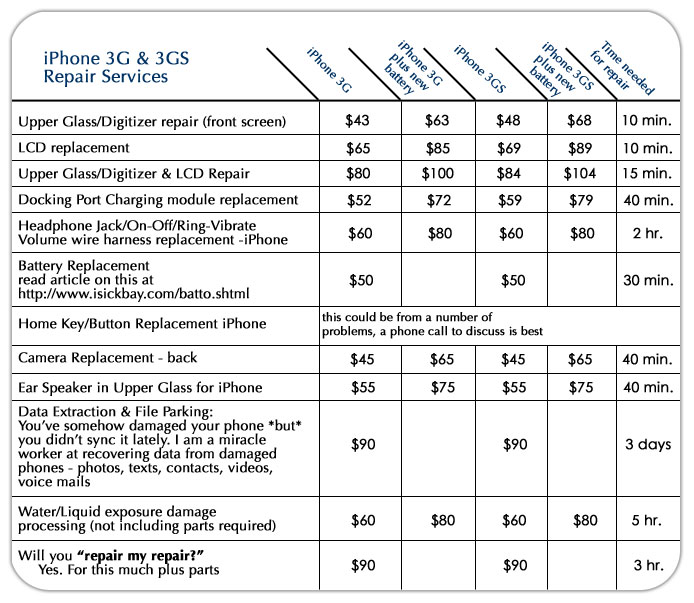 Touch model repairs with parts required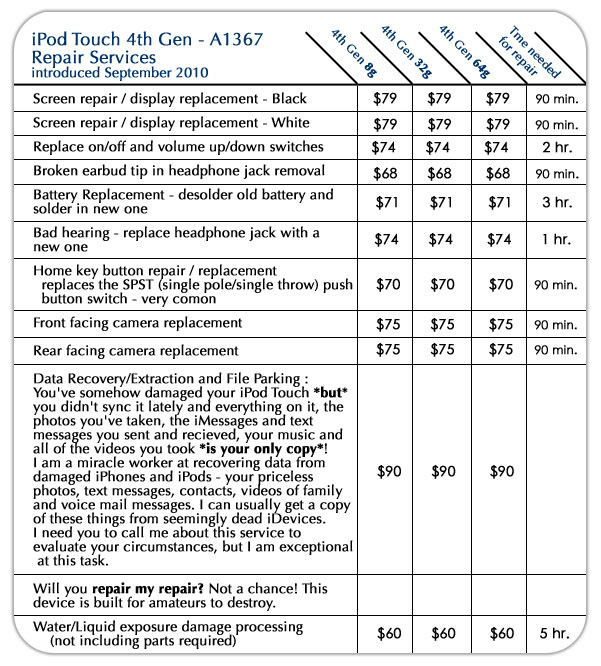 Classic iPods
I charge just one labor rate; $40. For that $40 I will do as many things for your iPod as you need done at one time. For that $40 I also pay the shipping of your iPod back to you.

For that $40, I also create a backup of your data, if at all possible. I'm a computer professional that has been working with computer hardware and software to solve problems like these since 1984.

If I can fix your iPod using my normal set of software tricks and operating system techniques... you are only charged the $40.

Classic iPod Hardware
If it goes beyond software and operating system issues to a hardware problem, I will disassemble your iPod and test each of the parts against a "known good" alternative to isolate a hardware issue. I'll get back to you with a detailed analysis of what I've found and how I would pursue returning your system to proper performance as if it were my own. I will not suggest expensive measures against a marginal gain. I want to keep your iPod running with the costs meeting at the point of maximum utility against maximum iPod life curves on a graph. Nothing weird and nothing outlandish. I am an ardent environmentalist that wants to see good use of resources and materials while minimizing un-necessary consumption.

If your iPod requires parts those costs are on top of the $40 bill, and I will make sure they all work correctly and the iPod is working perfectly before sending it back.

Can't Resuscitate your device
If I can't bring it back to life, I charge $20/$30 for the disassembly, testing and diagnostics then re-assembly of your iPod plus $3 to send it back to you.

If you sent it to me wanting a repair that required new parts and that repair doesn't bring it back to life, I will remove the parts and you won't be billed for them.

I can think of times when people have sent me a 3rd Generation iPod thinking it needed a battery and I installed a new battery in it. While doing further testing I find the problem was the battery *and* the logic board. The client decided against spending for a new logic board, understandable... really. Rather than charge them $40/$60 for the labor of the 'battery installation", I removed the new battery and billed the client just the $20/$30 "can't resuscitate fee".

Many customers value my honesty and integrity. About half the time in 'can't resuscitate' cases, the clients gift me parts outright, saying things like, "I know you can help others with my iPod, do your best with the parts from my iPod." Or "society would be better served having you keep more iPods out of landfills. Fix as many as you can with 'organ transplants' from my old friend."

Laptop Computers
I've also been working on laptop computers for as long as they have been made. Apple laptops have been my specialty going back to the "Duo" models in the late 1980's. I charge $185 to work on a laptop and it comes with the same half your money back if I can't repair it, or we decide together that it's impractical depending on what I discover once I have it apart.

But I have also repaired Compaq, IBM and Dell models for years and years too.

Not only do I repair them I've also assisted people in configuration for specific types of tasks and helped people establish wireless networks in their home... both PC (802.x or Wi Fi) and Apple Air Port networks.

If you need you laptop repaired just call me and we can discuss it.
---


Call 707-544-4400

or

email me at repair0117@isickbay.com with questions or to set up a repair.

HOURS:

Monday through Friday from 10am to 7pm, and Saturday & Sunday noon to 6pm.


I'm in Sonoma County... Northern California wine country,


Frank Walburg
2145 Service Court
Santa Rosa, Ca 95403-3139