Recent iPhone liquid or water immersion repairs successful, iPhones dropped in water or put through the washing machine



People send me their iPhones from all over the world for water exposure

You may not understand quite how expensive these devices are. The 16GB version of an iPhone 6 costs $650. Your carrier sold it to you for $199 plus a 2 year contract. From the $40 a month for the data plan, $19 of that $40 retires the "subsidy" - the additional $450 you didn't put on the counter when you picked it up. After two years of paying the $19 a month, the debt or subsidy is paid off and you are eligible for an "upgrade".

I'm not someone that would live without an iPhone and I don't think you are either. If your phone isn't fixed, you will have to pay off the $450/contract and then institute another one to get a new iPhone.



There are two variations of liquid immersion work I do with iPhones.
Working Phone: One is to make them work properly again.
Data Recovery: The other is make them *just one last time* to get the data off the phone.

I am able to make the 4 and 4S iPhones work post-immersion about 80% of the time.

I am able to make the 5 and 5C iPhones work post-immersion about 65% of the time.

I am able to make the 5S iPhones work post-immersion about 75% of the time.

I've had just a few iPhone 6's here for liquid problems. I'm about 55% successful.

I recognize your iPhone is the communication lens you see the world through and when a phone arrives everything else is set aside to solve it's problem. I never keep a water immersed iPhone here longer ONE day. I begin work on it exclusively the moment it arrives. If you send me $21 for return Express Mail shipping I will send it back using next day delivery the same day it arrives here... which means MAX 3 days out of your hand.

As of July 13th 2015, I am 8,236 successes and 1089 fatalities at iPods, iPhones, laptops, cell phones of all types and now iPads "dropped in water", "dropped in a Port-o-John at Floyd Festival" or "dropped in the toilet" (no... really), put "through the washing machine", "dropped in a river while I was crossing it with the iPad in my backpack" (that would be the iPad), "went into the hot tub", "forgot I was using it and went in the pool with it on", "bent over a pot of soup and it slipped out of my pocket" (chef), "got doused in Chloraseptic", "my bottle of sparkling water blew up in my gym bag", "my daughter dropped it in the toilet" problems. Call me to discuss what has happened to yours..... I'll bet I've heard it before and have brought an iPod back from that disaster.

I charge $60 to go through a water immersed iPhone to get it to work. This is the "Working Phone" solution.

Water cases are complex and successful on a case by case basis. I never know if I can bring them back to life or not until they are here and I examine and try. Sometimes it is merely a thorough processing of the device for corrosion which is just $60. Other times one (or more) parts has actually failed and needs to be replaced to bring it back to life.

If I can't get it working perfectly you get the device back with a cash refund of $30 and the knowledge there was nothing on planet earth that would have gotten it working again.

There is a time aspect associated with liquid immersion that makes a difference. You and I will never know if it can be made to work until I see it take it apart and try. It is important to get it to me as soon after the event as possible for best results. This is also not a 'while you wait' repair since I need to disassemble the device and thoroughly process out the moisture difficulties before I can learn what 'treatment' is required and the prognosis. For the $60 fee ($30 if I can't make it or it's so bad you elect not to repair it ) it is cheap to learn the truth. Read the quote at the top of the page from Chad Krueger about his iPod dropped in a river here:
http://www.isickbay.com/call--1-877-IPOD-PRO/comments/comments.shtml

Here is more information on water cases that I have handled in general
http://www.isickbay.com/call--1-877-IPOD-PRO/water/water_immersion.shtml

Here is an interesting case that shows the degree of intensity I exhibit at my iPhone water remediation work
http://www.isickbay.com/call--1-877-IPOD-PRO/recent_fixes/recent_fixes_497.shtml


These are some of my early iPhone water immersion cases. (I've been doing iPhone water cases since 2007.)
Jessie Morris works for Cal Fire and lives in Petaluma, California.

Cal Fire is the fire fighter aspect of the California Division of Forestry. His wife Jennifer was driving their Suburban one day and had to hit the brakes suddenly. When this happened her iPhone slid off the arm rest it was on and into a mug of hot tea in the cup holder. They had heard about from another Cal Fire person Eric Hoffmann who had a failed scroll wheel in his 5th Gen video iPod, which was actually water damage that I couldn't make any better.

In Jennifer's case I was able to get the iPhone 3G to work perfectly again. She relies on the camera in the iPhone... a lot and making the camera was considered by her the point of success. This is a shot of the phone with it's camera focussed on my work area.

The labor was $60 and the came back to her with everything on it intact. This is Jessie and his daughter Brooklynn Clair picking the finished iPhone up, Happy Days.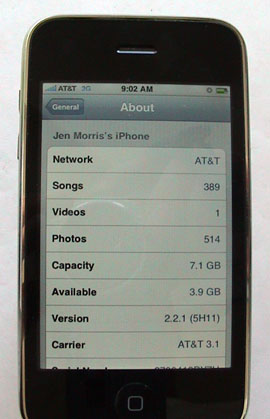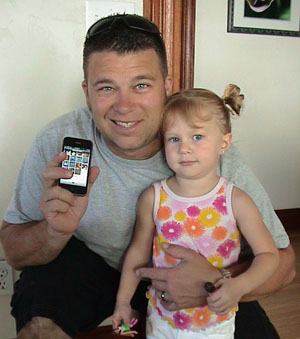 Fixed - Total cost $60.




Dillon Yonash emailed me from here in Santa Rosa, California about an iPhone.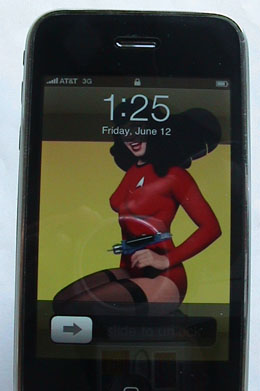 The message read,

"Do you do iPhone 3G water submersion repairs?

- Dillon"

I have a policy of responding to any email I read at the moment I read it. That keeps me from having to wonder if I've overlooked sending a replay to anyone. I sent Dillon a replay within a minute of receiving the message and got back this reply,

"Hey Frank,

Thanks for the quick reply. I went searching for you based on the recommendation of a friend.

I'm actually in Sonoma County and will be in Santa Rosa tonight. I can drop the phone by, but it'll probably be pretty late. Is there a drop box that I can use? What should I include with the phone (power cord)?

It fell into a toilet yesterday night. I couldn't get it to power off and stay off (there was obviously a short of some kind as it would cycle on and off). I just let it die over night, and have not tried to turn it back on again. There is water condensation in the camera eye on the back.

Thanks,
Dillon"

Later that day Dillon brought it in and I began work on it. By late the next day I had it working again.

It cost Dillon $60 to get the iPhone back working perfectly again.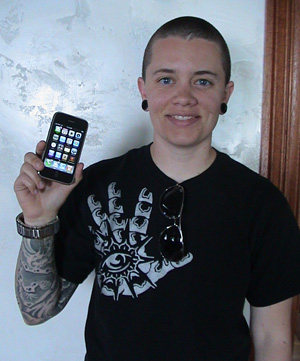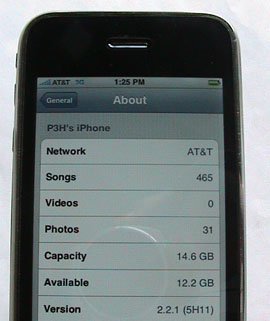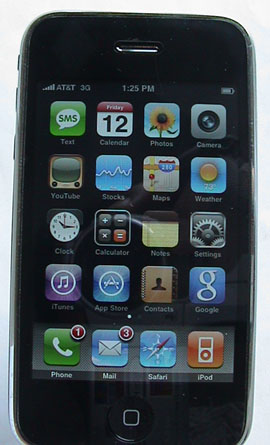 Fixed - Total cost $60.




Dimitri Sleem called me from Fayetteville, North Carolina to discuss a device he had put through the washer.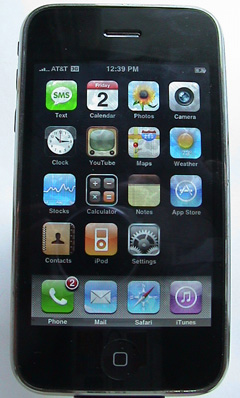 As we talked I got the impression we were discussing a 4th Generation Nano and sent him instructions on that. What arrived several days later was a 4GB 1st Gen iPhone that I think was his son's

I went to work on it and was able to get it again completely. One obstacle I had was that I needed to run a restore, in essence wiping out everything on it. After you do one of those you also have to reactivate it, a complex process involving a credit card but I wasn't going to use mine.

I emailed him I had it working and got back this message,

"Thank you for fixing the phone. When we get it back we can then have the service provider help us with the reactivation.

My family already knows of your existence but I'll let my friends know about you too in the event that they "drown" their phone."

Total cost for Dimitri was $60 to get his iPhone back working perfectly.

Fixed - Total cost $60.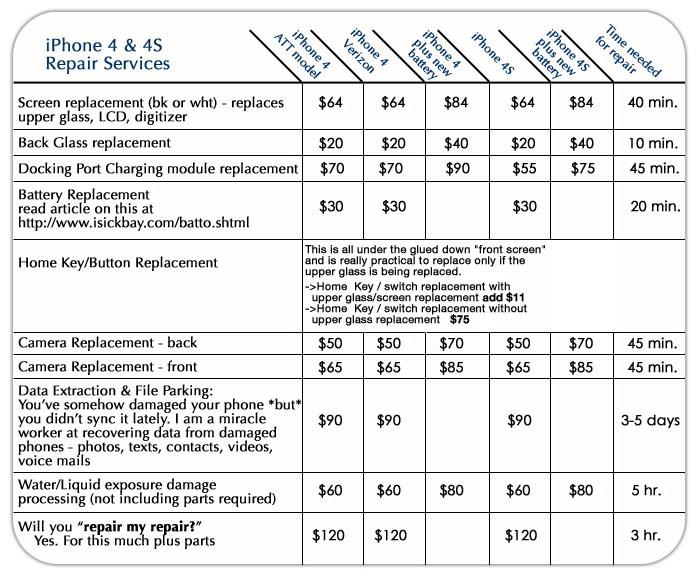 You can either bring or send your iPhone to me.

Here is how to bring your iPhone in.

Here is how to send your iPhone in.

More on methods of payment is here:
http://www.isickbay.com/payments.shtml

These are comments people have sent me after they received their iPod back fixed.
http://www.isickbay.com/comments/comments.shtml

My most complex iPhone water case ever
http://www.isickbay.com/call--1-877-IPOD-PRO/recent_fixes/recent_fixes_497.shtml