Earbud tip snapped off in your iPhone headphone jack? I can fix it!



Have your Earbuds snapped off in your iPhone headphone jack? I can fix it!

I have a reputation for repairing iPhones that have been dropped in water. I also repair non-water immersed iPhones. The most common repair is for a cracked upper glass but I also do many other types of repairs.

When I repair your iPhone, all of your music, video and photos will still be there afterward. So will your contacts and calendaring and apps

The shank of any pair of earbuds has three connection points. The broader top most part is "common". It is also called the "Neutral" or "ground". The middle section is left side positive connection and the bottom most tip is the right side hearing's positive connection.

These parts have fine wire embedded in an injection molded plastic bed that is surrounded by the metal shank piece that makes contact inside the headphone jack.

Not always... but from time to time, the plastic at the tip weakens... or may have been a bad molding job and the tip separates leaving it in the "earbud jack" inside your iPhone or iPod.

This can happen even with the pair that Apple sent the device out with. In some cases the manufacturer will give you a free set of replacements if you tell them the tip separated inside the device. But no one will remove the tip or pay to have someone do it for you.

Somewhere on the internet, people are getting the impression the solution is apply super glue to a paperclip and hope you can touch the tip back end and remove it. I've had to fix a pile of the problems that develop from that attempt before.

The proper way to handle the problem isn't isn't to try to pull it from the front, it's to push it out from the back.

I doubt that you know how to safely get in and do this, and that's where I come in. Give me call and we can set up the repair.

Below is an example of this problem I've corrected.

---
Raymond Tantorelli called me from Sebastopol California (95432) about his *NEW* iPhone 4. The problem he had occurs in many devices even if you are using an expensive set of earbuds. I mean more expensive than the ones Apple sends with the phone.

The end tip which provides the left side positive connection for the stereo earbuds had broken off and now remained in the earbud jack. Catch this... even if it's an Apple set of earbuds, having it break off in their new device still constitutes "abuse" and abuse voids the warranty.

I see this problem repeatedly. I've fixed it in iPhones, iPod Touch models, iPod nano models, Classic iPods and now three times in iPads... I guess that runs the Apple table.

It requires the complete dismantling of the device and then pushing straight back out again on the the earbud tip to free it.

These are photos of the dismantling and correcting of the problem.


This is a photo of Raymond. I suppose, his phone is now "under warranty" again. Total cost was $60, to repair the phone they would have charged him $550 to replace!!

This tip removal service is $60 which is my standard cell phone labor rate.

You can either bring or send your iPhone to me.

Here is how to bring your iPhone in.

Here is how to send your iPhone in.

More on methods of payment is here:
http://www.isickbay.com/payments.shtml

These are comments people have sent me after they received their iPod back fixed.
http://www.isickbay.com/comments/comments.shtml

My most complex iPhone water case ever
http://www.isickbay.com/call--1-877-IPOD-PRO/recent_fixes/recent_fixes_497.shtml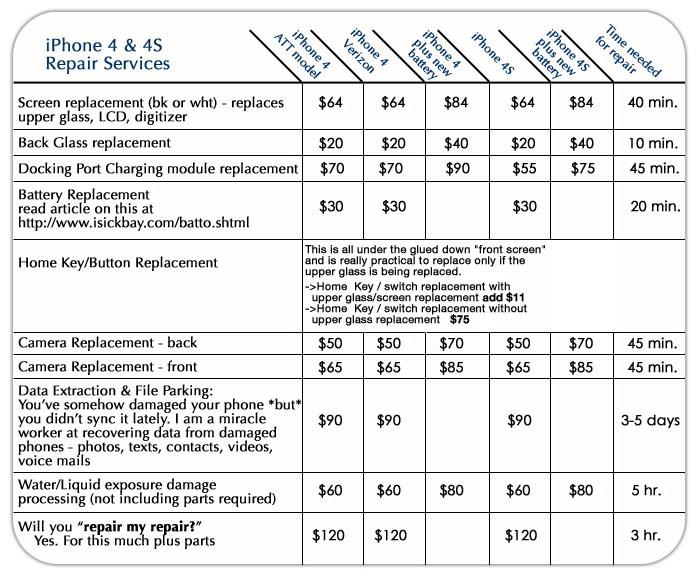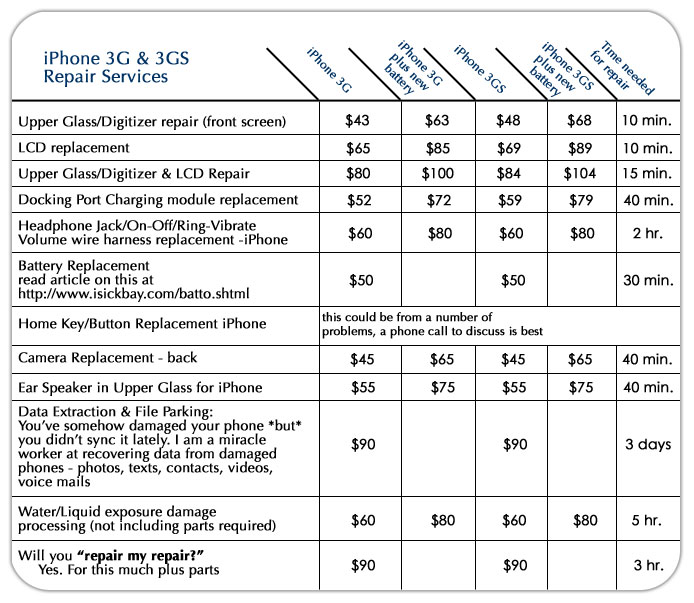 ---


Call 707-544-4400

or

email me at repair0117@isickbay.com with questions or to set up a repair.

HOURS:

Monday through Friday from 10am to 7pm, and Saturday & Sunday noon to 6pm.


I'm in Sonoma County... Northern California wine country,


Frank Walburg
2145 Service Court
Santa Rosa, Ca 95403-3139