These are a few my recent iPod repair experiences.

«Previous Page 549 | Next Page 551»

Page 600 | Page 550 | Page 500 | Page 450 | Page 400 | Page 350 | Page 300
Page 250 | Page 200 | Page 150 | Page 100 | Page 50


Tom Hutton got a hold of me by email from Lilburn Georgia (30047).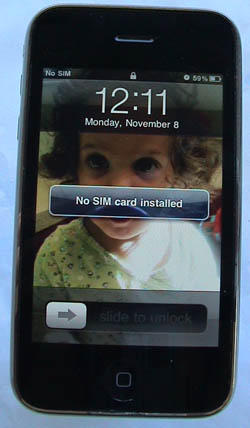 The message read,

"Frank -

I saw your website, and would like to send an iPhone 3G 16GB phone to you for repair (assuming that you think it's a possibility for repair).

It was dropped into a sink of water about two weeks ago, and I have taken the cover off to see if there was still water in it (which there is none).

There is no display on the phone since the drop, and it seems to be doing something as if buttons are being pushed.

I have your address from the website, but will need your Paypal address if you think you might possible repair it.

Tom Hutton"

We conversed by email further about it and the White 3GS 16GB iPhone arrived by Fed Ex about 4 days later. I went through it and was able to get it all working again properly. The LCD did have to be replaced and that was a $45 part but he got the phone back working perfectly for $105, a terrific save.


Fixed - Total cost $105.




Ryan Mellus called me from Ukiah California (95482) about the headphone jack in his 6th Gen video iPod.
Like many people he had dropped it with the earbuds plugged into it and it landed on the plug. The got driven in so fast and hard that it snapped off the right side positive earbud connection leaving him left side hearing only.

We set an appointment for him to bring it down a few days later when he would be in town on a more major shopping expedition. Ukiah is about 90 minutes from here.

He got at 1 o'clock on Saturday as expected and i was able to get the iPod repaired by the time they were finished and on the way to leave town and go home 5 hours later.

The part was $28 and labor was $40. His 11,00 country songs were still on the iPod waiting for him.


Fixed - Total cost $68.






«Previous Page 549 | Next Page 551»

Page 600 | Page 550 | Page 500 | Page 450 | Page 400 | Page 350 | Page 300
Page 250 | Page 200 | Page 150 | Page 100 | Page 50






---


I'm in Sonoma County... Northern California wine country.

If you live nearby, are traveling through or live in the San Francisco Bay Area bring your iPod to me and I can do the work while you wait or go wine tasting for a while. Send me an email just to make sure I have on hand whatever parts your repair will require.

Call or email me with questions or to set up a repair. You can also call, I am here most days from 8am to 8pm
Toll Free 1-877-IPOD-PRO (1 - 877 - 476-3776)

Send the device to:
Frank Walburg
2145 Service Court
Santa Rosa, Ca 95403-3139
Methods of payment
Back to Top