These are a few my recent iPod repair experiences.

«Previous Page 99 | Next Page» 101

Page 600 | Page 550 | Page 500 | Page 450 | Page 400 | Page 350 | Page 300
Page 250 | Page 200 | Page 150 | Page 100 | Page 50


On Monday August 11th at 4PM the UPS truck slowed down Before: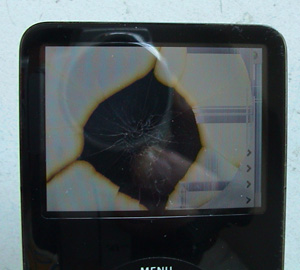 After: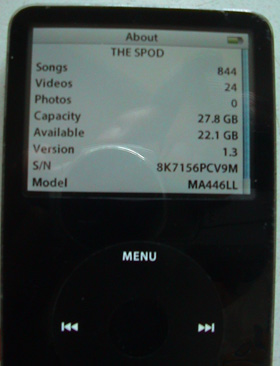 in front of my place which is a very well travelled 5 lane street and threw a 4 by 4 by 8 inch box over the porch railing so it would bang on my front door. The idea of "throwing" it to "knock" on the door was a point of driver laziness so "Big Joe" (my UPS Driver) didn't have to pull around the corner and actually stop the truck get out, walk up to the door and hand me the package.

That driver behavior is not cool. If I hadn't been there and wondered why the sound of a UPS truck hadn't been followed by someone walking up the walk way I wouldn't know since where I work is near sound proof. This was not my normal UPS driver... who is Mark.

The package he dropped off was from James Morris who works at Ground Control Specialties in Shingle Springs, California (95682). He sent his iPod in without a phone call and merely wanted me to affirm the $73 price for an LCD replacement in the 5th Gen video iPod before starting work.

I emailed back to him that it was $73 and sent a PayPal request for it. He paid it immediately and the fixed iPod was sent back later the same day.

It was $33 for the LCD and $40 for labor/return shipping.

Fixed - Total cost $73.




Mike Booker of Santa Rosa (95403) is one of my first customers.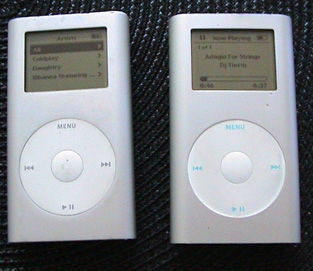 He brought two more iPods for me to fix one day, both iPod Mini's. I took both of them apart and was able to make one that worked, then basically examined each of the remaining parts and realized that for various reasons there was nothing there that worked. The charge for that was $40

I built from known good parts a new Mini for him with a 6GB drive instead of the 4GB drive his came with. The charge for the newly built Mini for him was $50

I called him and he admitted he had bought the totally failed one on eBay for $10. I told him to read my "How to select a used iPod" page and revoked his license to buy them on eBay ever again.

For $90 he was ecstatic.

Fixed - Total cost $90.




Scott Callender called from Angwin California (94508).

Not many people know it but I have a USPA class D parachutist license and I used to skydive in his town of Angwin at the Pope Valley drop zone.

Scott has a 5th Gen video iPod that has hearing from the left side only, which we all know is the result of dropping the iPod with the earbuds in and having it land on the plug. But it is repairable if you replace the headphone/hold lock wire harness.

Jen, his wife, brought it by later that day and I had it finished for her an hour later after she had lunch with a friend downtown.

The part was $35 and labor was $40.

Fixed - Total cost $75.






«Previous Page 99 | Next Page» 101

Page 600 | Page 550 | Page 500 | Page 450 | Page 400 | Page 350 | Page 300
Page 250 | Page 200 | Page 150 | Page 100 | Page 50






---


I'm in Sonoma County... Northern California wine country.

If you live nearby, are traveling through or live in the San Francisco Bay Area bring your iPod to me and I can do the work while you wait or go wine tasting for a while. Send me an email just to make sure I have on hand whatever parts your repair will require.

Call or email me with questions or to set up a repair. You can also call, I am here most days from 8am to 8pm
Toll Free 1-877-IPOD-PRO (1 - 877 - 476-3776)

Send the device to:
Frank Walburg
2145 Service Court
Santa Rosa, Ca 95403-3139
Methods of payment
Back to Top