You've dropped your iPod Touch model in water, or put it through the washing machine

If you've somehow dropped your iPod Touch model in a liquid, or spilled something on it, I'm the fellow most people call to get it working again.

As of July 13th 2015, I am 8,236 successes and 1089 fatalities at iPods, iPhones, laptops, cell phones of all types and now iPads "dropped in water", "dropped in a Port-o-John at Floyd Festival" or "dropped in the toilet" (no... really), put "through the washing machine", "dropped in a river while I was crossing it with the iPad in my backpack" (that would be the iPad), "went into the hot tub", "forgot I was using it and went in the pool with it on", "bent over a pot of soup and it slipped out of my pocket" (chef), "got doused in Chloraseptic", "my bottle of sparkling water blew up in my gym bag", "my daughter dropped it in the toilet" problems. Call me to discuss what has happened to yours..... I'll bet I've heard it before and have brought an iPod back from that disaster.

I am successful at the moment in just over 70% of Touch 2nd and 3rd Generation cases.

I am almost 90% successful at the Touch 1st Gen model

With the iPod Touch 4th Gen, I am successful in a nudge over 60% of the cases that come to me.

The reason I'm not more successful at the 2nd and 3rd Generation models has to do with their design. In the 2nd Gen Apple used a rounded, concave backplate not the flat back they used in the 1st Gen. At the small of it's back in the cupped surface they put the logic board with a Piezoelectric transducer which provides the 'small speaker' inside the device. (Remember in the 1st gen model you *had* to use earbuds to hear at all.) They used the cupped backplate as a resonator/soundboard to amplify the volume of the tiny transducer. Because most people pick their Touch up out of water and look at the front of it to see if it works, the liquid they immersed it in all pools in the that rounded cupped area.. where the logic board is. In holding the iPod they move the liquid into the most delicate area where it can do the most damage. That design seems to have made water deliberately able to pool JUST where they embed the most delicate circuitry. A cynical person might think it was designed that way to aid in its destruction deliberately by Apple.

Water cases are complex and successful on a case by case basis. I never know if I can bring them back to life until they are here and I examine and try. Sometimes it is merely a thorough processing of the device for corrosion which is just my $60 labor charge. Other times one (or more) parts has actually failed and needs to be replaced to bring it back to life.


How to send your iPod Touch in for repair
http://www.isickbay.com/call--1-877-IPOD-PRO/touch/touch_send_it_in.shtml


This is a common story for me:

Belinda Salas called from from Houston, Texas about an iPod Touch that had water damage. I talked her through the process of my repairing iPods and my current success rate with Touch models which had been (about 90% on Touch 1st Gen water cases).




I was able to get it working again by the early evening.

The total cost to get her Touch repaired and working perfectly again was $60


A few days later, I got this message of thanks from Belinda,

"Hello Frank,

So sorry I hadn't had the opportunity to tell you how grateful I was for the job well done. I wish you could have seen the excitement on my son's face that he started to cry when he got his I Touch back and with it all intact. I really didn't think it had any hope since it had been sitting so long with water damage. You are truly amazing and again Thank you so much for giving my son a Wonderful Christmas this year. ( That was all he wanted was his I Touch running again). May your New Year be filled with Much Happiness.

Sincerely

Belinda Salas
Houston Texas"

Fixed - Total cost $60. More pricing below.





People sometimes think putting your iPod in a 'bag of rice" or a vacuum desiccator will solve a water immersion problem. The use of rice as a desiccant or a vacuum desiccator never addresses the problem correctly. The water exposed solder (which holds the discrete electronic parts down to the logic board) which starts to corrode the iPod's inner connections even if the "water" seems to be eradicated. This corrosion, "lead oxide corrosion" occurs no matter what unless the device is opened and cleaned. It's rather like taking a new shovel home from a hard ware store. Leave it unused in your garage and it will stay new blue steel. Leave it out in the rain just once and the iron oxide/rusting process will start and continue until you wipe and polish its surface to arrest the corrosion. This process will not stop until I or someone like me opens it up and works through it.

Once the logic board in a Touch model has suffered permanent damage, there isn't much you can do but buy another iPod. It's the priciest, most delicate aspect of the iPod.

The amount of elapsed time since the water exposure occurred makes a difference, but *we* (you and I) will never know if it can be made to work until I see it, take it apart and try. For the $60 fee ($30 if I can't make it work or it's so bad you elect not to repair it ) it is cheap to learn the truth. Read the quote at the top of the page from Chad Krueger writing about his non-Touch model here:
http://www.isickbay.com/call--1-877-IPOD-PRO/comments/comments.shtml

I charge $60 to work on an iPod Touch model which is really small insurance against it's eventual death from leaving the likely corrosion available to do additional harm.

Here is more information on water cases
http://www.isickbay.com/call--1-877-IPOD-PRO/water/water_immersion.shtml


Here is an interesting case that shows the degree of intensity I exhibit at my work on hard drive based iPods
http://www.isickbay.com/call--1-877-IPOD-PRO/recent_fixes/recent_fixes_13.shtml



This is my most difficult iPod Touch water case ever.
http://www.isickbay.com/call--1-877-IPOD-PRO/touch/touch_complex_case.shtmls

How to send your iPod Touch in for repair
http://www.isickbay.com/call--1-877-IPOD-PRO/touch/touch_send_it_in.shtml

How to bring your iPod Touch in for repair
http://www.isickbay.com/call--1-877-IPOD-PRO/touch/touch_bring_it_in.shtml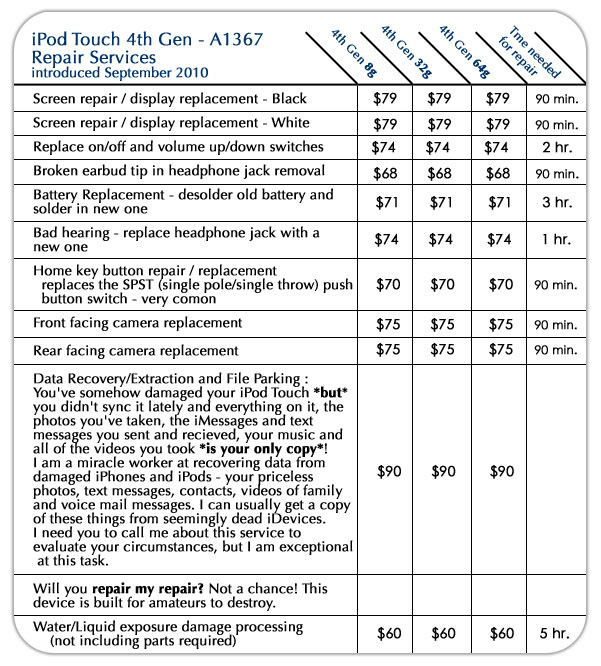 ---


Call 707-544-4400

or

email me at repair0117@isickbay.com with questions or to set up a repair.

HOURS:

Monday through Friday from 10am to 7pm, and Saturday & Sunday noon to 6pm.


I'm in Sonoma County... Northern California wine country,


Frank Walburg
2145 Service Court
Santa Rosa, Ca 95403-3139