How to copy your friends iTunes library and take it home with you. Macintosh

How can I copy my friend's Macintosh iTunes Library?

Frist, let's make sure you have your ipod formatted in the FAT32 (windows) file system. If you are a Macintosh user, I stongly urge you reformat your iPod so it can be used to copy music, videos and movies from both your Windows using friends and your Macintosh using friends. The instructions are here http://www.isickbay.com/call--1-877-IPOD-PRO/pc_format_mac.shtml

On a Macintosh all the iTunes files are located in one place. By default, its at:
drive_name:Users:yourname:Music:iTunes:Music
Your friend, whose Library you are copying may have it in a different location. Here's how you find out where their's is...

Locate the iTunes Library on a Macintosh
Launch iTunes on their Macintosh. Click on the iTunes menu and pull down to and select "Preferences"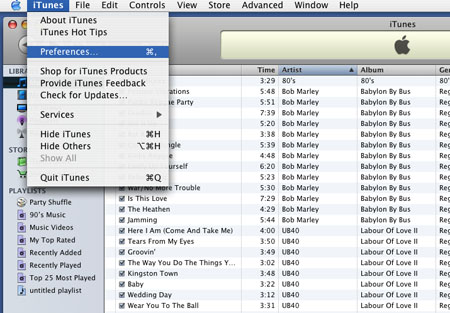 release and the Preferences menu will come up and the "General" tab will be selected at the top.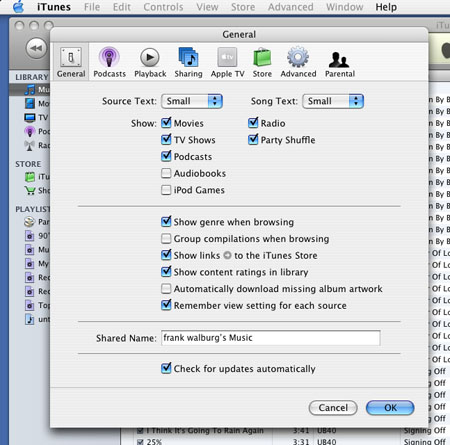 Move your mouse accross the top and select the "Advanced" tab. Click on the "General" tab in that advanced window and the screen ought to look like this.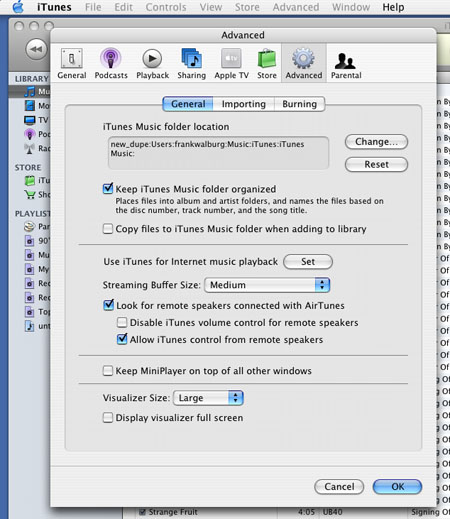 Next»
Improving iTunes Preferences
Change Importing Options
Cable and Open Your iPod
Get iPod Ready to Copy Files
Re-name and Remove Protected Files
Search for MP4 Files
---


Call 707-544-4400

or

email me at repair0117@isickbay.com with questions or to set up a repair.

HOURS:

Monday through Friday from 10am to 7pm, and Saturday & Sunday noon to 6pm.


I'm in Sonoma County... Northern California wine country,


Frank Walburg
2145 Service Court
Santa Rosa, Ca 95403-3139
Back to Top