I had been repairing iPods since 2003 and then in 2007 I added iPhone repairs to my services and then in 2010... iPads.

iPhone upper glass/digitizer repair - Usually done in 40 minutes if a 4/4S Series or less than 10 minutes if it's a 3G or 3GS model. This repair is a while you wait repair.



The most frequent part of an iPhone to break is the Upper Glass. This is the part the finger actually touches when you use it. laminated directly to the bottom of the upper glass so it re,mains in perfect -relative- position to the lower LCD is the iPhone digitizer.

The digitizer interprets your finger movements relative to the icons and screens presented on the iPhone's LCD and makes the iPhone operate.

The upper glass and digitizer are a single part. Here are examples of what a broken upper glass/digitizer look like: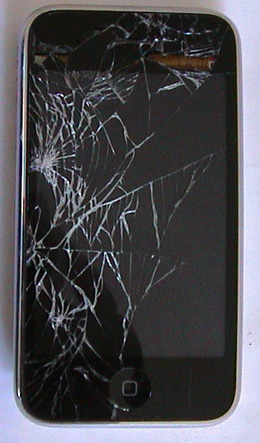 In the 3G and 3GS models, it's rare to break both the upper glass *and* the LCD. You would have to drop something hard on the phone to break through both parts, but it does happen. Typically it's only the upper glass on the 3 Series.

The iPhone 4 and 4S have the entire display assembly made as a single part is quite frail. Apple chose to use flame tempered glass for the front and back, which is quite brittle. Very little stress on the front or rear glass will cause it to shatter and because it's flame tempered it breaks out leaving sharp edges that can cut your finger or ear. Because that "Retina Display" is a single part the repair obligates the glass, digitizer and LCD to all be replaced at the same time. It's kind of pricey and takes 4 times longer to effect the repair.
The 4 Series phones have parts made in Black or White. The i4 has two separate models... and AT&T (GSM) model and a Verizon/Sprint/Nextel (CDMA) compatible model. You will need to know what carrier you have to set up the repair. The i4S has a single model that covers all network carrier types.

Pricing for the upper glass/screen repair for the 3 series and 4 series models is in the tables below. I also include the pricing if you want to have your battery replaced at the same time. That "plus battery" column is to the right of the screen replacement column.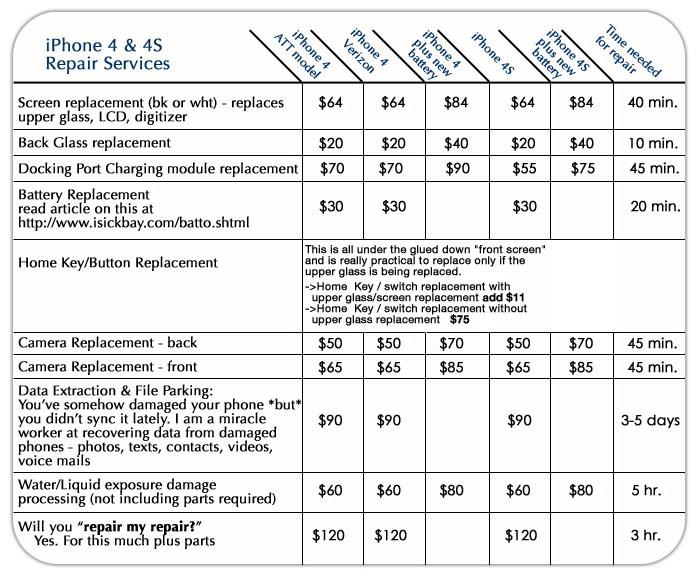 I have parts ready so I can so the repair and get you back at work and life in just 15 minutes. Sit down, experiment with an iPad we have here and have a complimentary expresso. 15 minutes later, you'll leave coffee'd up and happy with your *new* iPhone.

You can either bring or send your iPhone to me.

Here is how to bring your iPhone in.

Here is how to send your iPhone in.

More on methods of payment is here:
http://www.isickbay.com/payments.shtml

These are comments people have sent me after they received their iPod back fixed.
http://www.isickbay.com/comments/comments.shtml

My most complex iPhone water case ever
http://www.isickbay.com/call--1-877-IPOD-PRO/recent_fixes/recent_fixes_497.shtml




---


Call 707-544-4400

or

email me at repair0117@isickbay.com with questions or to set up a repair.

HOURS:

Monday through Friday from 10am to 7pm, and Saturday & Sunday noon to 6pm.


I'm in Sonoma County... Northern California wine country,


Frank Walburg
2145 Service Court
Santa Rosa, Ca 95403-3139