These are a few my recent iPod repair experiences.

«Previous Page 284 | Next Page» 286

Page 600 | Page 550 | Page 500 | Page 450 | Page 400 | Page 350 | Page 300
Page 250 | Page 200 | Page 150 | Page 100 | Page 50


David Stone called me from Petaluma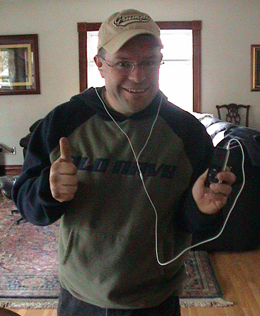 about his 5th Gen video iPod which had hearing from the left earbud only. Most people who read here know this is the result of dropping your iPod and having it land on the earbud plug, driving it far enough into the jack to snap off the right side positive connection.

He brought it up for me to repair. The part was $28 and labor was $40. It was ready for him an hour later and worked perfectly.

Fixed - Total cost $68.




Chris Dawson called me from Sebastopol, California

about 6 miles west of here. A week earlier he retired from the Press Democrat which is our local newspaper. The PD had been bought in the early 1980's by The New York Times. Chris also worked with other friends of mine, Bony Saludes and Chris Smith who had been writers there for 30 years. We were both in agreement that it wasn't clear how the newspaper was going to make it.

Chris has two 4th Gen Mini's that needed to have their batteries replaced. He dropped them off on a Tuesday and I had the work done for him the next morning (which was a Sunday).

I charged him the $40 labor rate only and gifted him the batteries. I really want to keep all iPods working as long as possible and make it affordable for everyone to do so.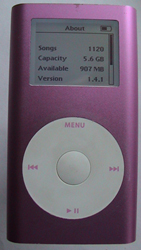 Fixed - Total cost $40.




Matt Champoux sent in his 4th Gen Photo iPod from Berkeley, California.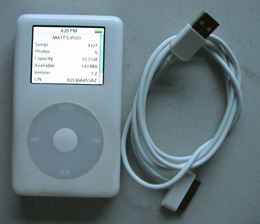 It was displaying the starry eyed sad face, which indicates a hard drive data issue or a logic board failure. Not usre which it was when he called I asked him to also send his data cable so I could check it out too.

It proved to be the drive and I was able to fix it. The problem is the drive was overfilled. You should never fill a hard drive whether it's a laptop, iPod, desktop system or server to more than 85% of its capacity. Higher than that runs all types of risks as the drive discovers disk failures and runs short of spare block to write file extensions to.

Notice in this shot he has just 143 megabytes on a 60GB drive (more than 98% filled)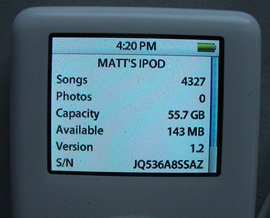 Fixed - Total cost $40.






«Previous Page 284 | Next Page» 286

Page 600 | Page 550 | Page 500 | Page 450 | Page 400 | Page 350 | Page 300
Page 250 | Page 200 | Page 150 | Page 100 | Page 50






---


I'm in Sonoma County... Northern California wine country.

If you live nearby, are traveling through or live in the San Francisco Bay Area bring your iPod to me and I can do the work while you wait or go wine tasting for a while. Send me an email just to make sure I have on hand whatever parts your repair will require.

Call or email me with questions or to set up a repair. You can also call, I am here most days from 8am to 8pm
Toll Free 1-877-IPOD-PRO (1 - 877 - 476-3776)

Send the device to:
Frank Walburg
2145 Service Court
Santa Rosa, Ca 95403-3139
Methods of payment
Back to Top